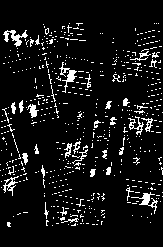 WE've MOVED
see new address and contact email in ABOUT US
Home

Articles

Reviews

Hot Links

About Us
AETHER FEST
AETHER FEST 1: Festival of International Radio Art

Sunday, June 1, 2003
Aether Fest is a month-long celebration of adventurous, experimental radio art that will debut on KUNM throughout the month of June 2003.

"The Wild, the Beautiful, and the Just Plain Weird"

This June, KUNM teams up with Nonsequitur and the Harwood Art Center to host Aether Fest, an exciting new festival of international experimental radio art.

Now, consider those last three words and how rarely they are ever heard together. You'd be forgiven for being mystified by this phrase. In many countries there is a tradition of artists making new works for radio (sometimes called Ars Acustica or Hörspiel), but the concept remains largely alien here. Yet there is a global network of intrepid radiomakers who persist in pushing the boundaries of the medium, creating wildly imaginative audio art that challenges accepted notions of what radio is and does. Some manage to find their way onto the air -- remember Joe Frank, or the New American Radio series? -- but most remain unheard in America. Aether Fest offers a rare showcase for this adventurous work, including new projects by three local artists commissioned especially for this event.

So just what is Radio Art? Well, it's not really "music," though it often includes musical sounds. It's not quite "radio theater," though it may be dramatic. It isn't exactly "spoken word," though it can be very poetic. It isn't what's usually considered "documentary," though it might incorporate sounds and stories from real life. It avoids established radio genres, except to subvert them. It's not about DJs spinning discs, but it could recycle previously broadcast material in a new form. Radio Art can be beautiful, noisy, abstract, moving, humorous, profound, or confusing. Think "cinema for your ears" (if you must). But forget the Hollywood blockbusters, or even those independent features and documentaries that still behave like "normal" movies. Instead, think of those weird little art films with hardly any commercial potential, made by crazy people with no money who are just obsessively in love with light and motion. Now, close your eyes and open your ears.

You could read up on the subject (we recommend "Radio Rethink," "Radiotext(e)," and "Wireless Imagination"). Better yet, listen on Sunday and Thursday nights in June and experience it first hand. And don't forget to visit "Transmission," a companion show of visual art on the theme of radio at the Harwood Art Center in downtown Albuquerque.


"Sleep Concert" Kicks Off Aether Fest Special Projects

There's a certain mystique around the overnight shift. Being the lone DJ in an empty station spinning records in the wee hours while most most of the world sleeps is a singular radio experience. Every now and then some fellow night owl calls to reassure you that yes, there is someone listening out there. And at 3 AM, "freeform" can take on a whole new meaning. This is when inspired mad professor DJs can get away with almost anything -- mixing all the turntables and CD players and cart machines at once, having musicians and poets come jam in the studio, putting random callers on the air...

But Aether Fest is about doing radio differently, even the graveyard shift. So instead of providing the usual entertainment for insomniacs, we thought we'd offer something special for our listeners who normally miss the overnight slot. You know, the ones who are asleep.

From 11 PM on Sunday, June 8 until 5 AM Monday morning, acclaimed Bay Area ambient/electronic composer Robert Rich will visit KUNM to perform "Somnium," a composition intended for sleeping audience. Rich usually performs this piece as a Sleep Concert, with the audience camped out in the performance space. But since it's a work night, we thought we'd let you experience it in the comfort of your own cozy bed, without a bunch of strangers snoring all around you.

Developed between 1994 and 2000, and recently released as a 7-hour long audio-only DVD, "Somnium" was created as a soundtrack for your dreams. And dreamy it is. Rich weaves a deep and sonorous blanket of gentle synth drones, murky environmental sounds, and extended instrumental passages charted to correspond with the different levels of sleep most of us pass through in the course the night. So curl up with that bedside radio turned on at a suitably low volume and let yourself drift in and out of this nocturnal sonic environment. Up all night? Tune in anyway, there's plenty to reward the wide awake listener.
www.robertrich.com/rrsomnium.html


This is the complete program schedule for Aether Fest 2003. Works included in each program are listed alphabetically by artist.

SUNDAY, JUNE 1 @ 8:30-10:30 PM
Aether Fest honors some older radio works that we consider classics:

Robert Ashley (NYC) "Yellow Man with Heart with Wings"
(produced by Ned Sublette at KUNM)

Samuel Beckett, text / Morton Feldman, music (Ireland/USA) "Words & Music"
(produced & directed by Everett C. Frost)

Kenneth Patchen, text / John Cage, music (USA) "The City Wears a Slouch
Hat"
(performed by Essential Music)

Hildegard Westerkamp (Canada) "Kits Beach Soundwalk"



THURSDAY, JUNE 5 @ 10 PM - 1 AM
Radio art from Latin America & Spain:

Lidia Camacho & Jorge Reyes (Mexico) "Zocaloop"

Oscar Alonso Inclan (Mexico) "Cinco Radioartes Basados en la Obra de Manuel
Álvarez Bravo"

Laboratorio de Experimentación Artística Sonora (Mexico) "Radio Gutura"

Antonio López (Santa Fe, NM) "Radio Alchemist"

Francisco López (Spain) "Sonic Dust"

Mario Mota (Mexico) "Sinicuichi"

Jorge Reyes (Mexico) "Los Proverbios del Enfierno"

Anabella Solano (Mexico) "Canto a la Muerte"

Mario Verandi (Argentina/Germany) "Traces & Shadows" + "Fréquences de
Barcelona"



SUNDAY, JUNE 8 @ 8:30 - 10:30 PM
Almost Music - radio art that doesn't talk much:

Christian Banasik (Germany) "Letzte Gebärde offener Münder"

Steve Bradley & John Sturgeon (Baltimore, MD) "Dotted Lines"

Loren Chasse (San Francisco, CA) "Apparition Radio"

Martin Daske (Germany) "Newt, Contemplating a Sunken Chess Game"

Chantal Dumas (Canada) "Send"

Slavek Kwi (Czech Republic/Ireland) "Pet Radio"

Seth Nehil (Brooklyn, NY) "Naos"

Lidia Zielinska (Poland) "Musica Humana, or: How Symphonies Are Born"

SUNDAY, JUNE 8 @ 10:30 -10:50 PM
Aether Fest hosts the Radio Theater slot:

Dean Santomieri (Oakland, CA) "A Book Bound in Red Buckrum"

SUNDAY, JUNE 8 @ 10:50 PM - 5:00 AM
Live, on-air overnight concert for sleeping audience:

Robert Rich (San Francisco, CA) "Somnium"

THURSDAY, JUNE 12 @ 10 PM - 1 AM
World Tour - assorted soundscapes:

Deborah Begel (La Madera, NM) "Ode to Rain"

Warren Burt (USA/Australia) "Point King Beach Memories"

Chris Cutler (England) "Twice Around the World"

Rebecca Marshall (England) "Empty Building Dreams"

Andra McCartney (England/Canada) "Canada Trainradio 1: Montréal - Winnipeg"

Michelle Nagai (Brooklyn, NY) "Study for Ec(h)olocator"

Sarah Peebles (USA/Canada) "Walking Through Tokyo at the Turn of the
Century"

Philip Perkins (Albany, CA) "Choral Works"

Peter Stollery (Scotland) "ABZ/A"

Massimo Toniutti (Italy) "Omaggio Radiofonico alla Stazione di Topolo"



SUNDAY, JUNE 15 @ 8:30-10:30 PM
War Correspondence:

Ann Racuya Robbins (La Puebla, NM) "War & the Inevolution of Grace"
(live, on-air performance of new work commissioned by Aether Fest)

Chris DeLaurenti (Seattle, WA) "Two Secret Wars"

Barrett Golding (Bozeman, MT) "Bright Chrysanthemum"

René Mogensen (Denmark/Belgium) "Terror og Penge"

Pauline Oliveros (Kingston, NY) "Poem of Change"

Helen Thorington (Brookline, MA) "9.11.01 Scapes"



SUNDAY, JUNE 15 @ 10:30-11:30 PM
Aether Fest hosts the Radio Theater slot:

Anna Rubin & Laurie Hollander (Baltimore, MD) "Family Stories: Sophie,
Sally"

David Kolber (Canada) "Wheel. Chair."



THURSDAY, JUNE 19 @ 10 PM - 1 AM
More radio art classics from the archive:

Terry Allen (Santa Fe, NM) "Bleeder"

Sheila Davies (Berkeley, CA) "What Is the Matter in Amy Glennon?"

Willem de Ridder & Hafler Trio (The Netherlands) "Report"

Malcolm Goldstein (USA/Canada) "Ishi: timechangingspaces"

Glenn Gould (Canada) "The Latecomers"

Richard Kostelanetz (NYC) excerpt from "Invocations"

David Moss (USA/Germany) "Language Linkage"

Others TBA...



SUNDAY, JUNE 22 @ 8:30 -10:30 PM
Abstracted Locales - the subtle essence of place:

Raylene Campbell (Canada) "Arctic"

Arsenije Jovanovic (Serbia-Montenegro) "Four Winds"

Eric La Casa (France) "Remanences"

Richard Lerman (Phoenix, AZ) "From Dark to Light...but Dark"

Lou Mallozzi (Chicago, IL) "Things in Their Place"



SUNDAY, JUNE 22 @ 10:30 - 11:30 PM
Aether Fest hosts the Radio Theater slot:

Experimental Studio of Slovak Radio (Slovak Rep.) "The Woman with Black
Wings"

Morten Sondergaard (Denmark/Italy) "Aether"



THURSDAY, JUNE 26 @ 10 PM - 1 AM
Radionoise - harnessed signals and hijacked broadcasts:

Thomas Ashcraft (Lamy, NM/NYC) "Jumpering Wild Electricities from Outer
Space"
(new work commissioned by Aether Fest)

Alchemical Burn (Albuquerque, NM) "It Is, Is It"

Charles Benefiel (Albuquerque, NM) "Drift"

Brownsierra (England) "Oral Project: Something Here in the Recordings"

John Duncan (USA/Italy) "Phantom Broadcast"

Jeff Gburek (Albuquerque, NM) "Improvisation for Shortwave Radio #2"

Gydja (New Zealand) "Khora"

Jim Haynes (San Francisco, CA) "Magnetic North #1"

Robert Horton (El Cerrito, CA) "Radio Scrape"

Elsa Justel (Argentina/France) "La Radio, ca detend"

Antonio López (Santa Fe, NM) "AM Clock Radio Jam"

René Mogensen (Denmark/Belgium) "News Clips Study #1"

Steve Roden (Pasadena, CA) "The Radio"

Sidanik (Albuquerque, NM) "1710 kHz"

Eva Sjuve (Sweden) "Fake Radio"



SUNDAY, JUNE 29 @ 8:30 - 10:30 PM
Talking Box - text & documentary works:

Sumner Carnahan (Santa Fe, NM) "Dido's Revenge"
(new work commissioned by Aether Fest)

Jacki Apple (Los Angeles, CA) "Kokoro No Mai/Spirit Dancer"

Ed DeBuvitz (Albuquerque, NM) "He Was Told"

María Esteves (Argentina/Los Angeles, CA) "We All Gonna Be Homeless Pretty
Soon"

Monica Kidd (Canada) "Exciting Silence"

Tae Hong Park (Princeton, NJ) "Omoni" + "Aboji"

Susan Stone (Berkeley, CA) "Jump" + "Couch"

Deborah Stratman (Chicago, IL) "In Order Not to Be Here"

Gregory Whitehead (Boston, MA) "Proposition Two" + "Evil Axis"



SUNDAY, JUNE 29 @ 10:30 - 11:30 PM
Aether Fest hosts the Radio Theater slot:

Chantal Dumas (Canada) "In the Pale Grey Days"

Paul Goodman & Jos Janssen (Netherlands) "Les Petites Mortes"

Aether Fest is a joint project of KUNM, Nonsequitur, and Harwood Art Center. To receive future e-mail updates about the festival, contact Steve Peters at Nonsequitur, nonseq@swcp.com. Or call him at 505-224-9483 for other info.
Email nonseq@swcp.com