ST-19 DETAILED SCHEDULE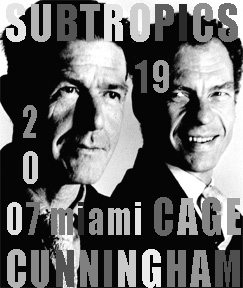 Subtropics Experimental Music & Sound Arts Festival

February 23 – March 4, 2007


Carnival Center for the Performing Arts
info@subtropics.org
SUBTROPICS 19 miami's experimental festival of music and the sound arts
gustavo matamoros, artistic director

february 23 - march 4, 2007


merce cunningham and his dance company are coming for
the first time to miami. and, it is fitting for subtropics to jump at
the chance to revisit the music and legacy of one of the festival's
favorite artists: composer JOHN CAGE




CONCERTS
schedule of concerts at
Carnival Center's Studio Theater
1300 Biscayne Boulevard, Miami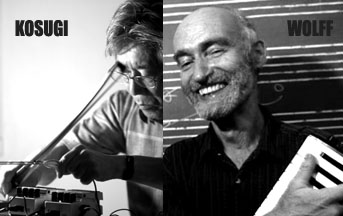 Saturday, 02/24/07
7 PM TAKEHISA KOSUGI

using violin, electronics and video, composer takehisa kosugi will be presenting a concert of mixed-media performing works. the program will include his versions of the early fluxus pieces organic music and micro 1

9:30 PM CHRISTIAN WOLFF

composer christian wolff performs an evenning of his music for piano
a particular interest in his work has been to allow performers flexibility and ranges of freedom at the actual time of a piece's performance; to devise notations to make this practicable; to foster among both professional and lay players a spirit of liberating interdependence; and to draw material from traditions of popular political music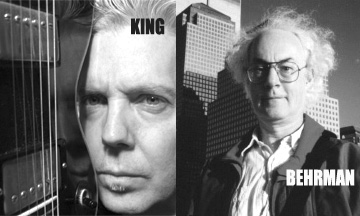 Sunday, 02/25/07
1 PM JOHN KING

composer john king (guitarist/composer) performs his music for electric guitar, electronics and video
he has performed live, solo and interactive computer music with the electronic music collectives unitygain and share at galapagos and open air in new york city over the past four years

3 PM DAVID BEHRMAN

composer david behrman performs his most recent electronic music
most of his pieces feature flexible structures and the use of technology in personal ways; the compositions usually rely on interactive real-time relationships with imaginative performers

9:30 PM I, IV, V by 5 + 1 the music of john cage

the music of subtropics honoree, composer john cage featuring this year's stellar subtropics ensemble of robert black on bass, helena bugallo and amy williams on piano, joan labarbara, voice, and jan williams on percussion
FURNITURE MUSIC ETCETERA

helena bugallo and amy williams

this piece for piano duet, combines, in a collage fashion, portions of erik satie's musique d'ameublement and cage's etcetera. cage organized the duration and recurrence of events in two parallel timetables, corresponding to each performer. the assignment of musical events, however, is made by the players. the title suggests that the piece can exist as one component of a larger environment. It will, therefore, take place tonight as a sort of prelude to the concert, with the piece and the sounds of the audience intermingling.


RYOANJI

joan la barbara, robert black and jan williams


ONE

helena bugallo


cCOMPOSED IMPROVISATION

robert black and jan williams


FOUR6 (1992)

joan la barbara, robert black and jan williams and gustavo matamoros on electronics

for any way of producing sounds (vocalization, singing, playing of an instrument or instruments, electronics, etc.). choose twelve different sounds with fixed characteristics (amplitude, overtone structure, etc.). play within the flexible time-brackets given. when the time-brackets are connected by a diagonal line, they are relatively close together. - j.c.


FIVE

tutti

the five parts are for five voices or instruments or mixture of voices and instruments. time brackets are given. Within these the durations of tones are free, as are their beginnings and endings, which should be "brushed" in and out rather than turned on and off. - j.c.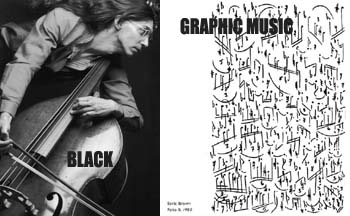 Monday, 02/26/07
7 PM ROBERT BLACK double bass

soloist robert black performs the music of john cage, somei satoh, james tenney and christian wolff
STRING BASS EXCERCISE from 'BANDEITRA ROSSA' (1975) by christian wolff

BEAST (1971) by james tenney

From 26'1.1499" FOR STRING INSTRUMENT (1955) by john cage

THE THIRD SPELL (2004) by somei satoh

LOOK SHE SAID (1991) by christian wolff

9:30 PM GRAPHIC MUSIC the music of earle brown, morton feldman and christian wolff

miami premieres of chamber music from graphic scores by earle brown, morton feldman and christian wolff featuring the subtropics ensemble of robert black on bass, helena bugallo and amy williams on piano, joan labarbara, voice, gustavo matamoros, saw, jan williams on percussion, with special guest christian wolff on piano
FOLIO II (c. 1970) by earle brown

tutti


FOR 1,2 or 3 PEOPLE (1964) by christian wolff

robert black, jan williams and christian wolff


FOLIO II (c. 1991) by earle brown

joan la barbara


IXION (for Piano Four Hands) by morton feldman

helena bugallo and amy williams


FOLIO II - E.B. for E. Blum (1994) by earle brown

robert black


FOLIO II (1980) by earle brown

tutti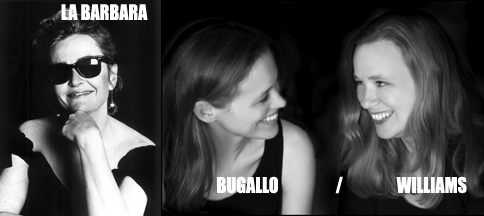 Tuesday, 02/27/07
7 PM JOAN LaBARBARA voice - singing through cage

this program includes selections for solo voice as well as for voice and piano from her compact disc release joan la barbara - singing through john cage (new albion na035). guest pianist, amy williams
EXPERIENCES, No 2 for voice, unaccompanied (1948)

john cage composed this music for the dance by merce cunningham and completed it in 1948 in new york city. modal in flavor, the entire work is constructed of only 5 pitches, arranged as shifting modular motivic elements. cage experimented with notational anomalies, for example, staccato and tenuto articulation markings on the same notes, and with using silence as negative space, juxtaposing the presence of sound with the absence of it. there are notated silent measures indicated with multipliers of 3, 4 and 6, heightening the anticipation of the next moment of music, or allowing us to reflect on what has previously been heard. throughout his compositional output, cage experimented with different aspects of silence, the absence of intentional sound and our expectations and experiences of it, framed by the concert situation. the most notorious example of this was his work 4'33" (1952), which consists of 3 sections all designated tacet. the text used in "experiences no. 2" is from III, one of "sonnets – unrealities of tulips and chimneys" (1923) by e.e.cummings (appearing on page 62 of poems 1923-1954 by e.e.cummings). regarding his setting of cummings' poem cage wrote: "the last two lines were omitted. other lines and a word have been repeated or used in an order other than that of the original. the humming passages (not part of the poem) are interpolations." the original poem is as follows:



it is at moments after i have dreamed
of the rare entertainment of your eyes,
when (being fool to fancy) i have deemed

with your peculiar mouth my heart made wise;
at moments when the glassy darkness holds

the genuine apparition of your smile
(it was through tears always) and silence moulds
such strangeness as was mine a little while;

moments when my once more illustrious arms
are filled with fascination, when my breast
wears the intolerant brightness of your charms:

one pierced moment whiter than the rest

- turning from the tremendous lie of sleep
i watch the roses of the day grow deep.

[note by joan la barbara]




A FLOWER (1950)

although "a flower" (1950) is wordless, it opens gradually and introduces two startling moments when the vocalist is instructed to sing "like a pigeon" and "like a wild duck". cage indicates that it is to be sung in vocalize without vibrato, except, where indicated, as a rapidly repeated sound but not a pitch change.


ARIA (1958)

uses five languages: armenian, english, italian, french and russian, and ten different vocal styles to be chosen by the singer, interspersed with silences indicated by page space. the shape of the graphic suggests the contour and direction of the vocal line, with vertical space indicating pitch terrain. colors are used to assist the singer in reading the score and shifting from one (pre-determined) vocal style to another. [note by joan la barbara]


MIRAKUS 2 (1984/85)

are to be sung without vibrato, as in folk-singing, as lines of poetry, with spaces between lines suggested by numbers following each line. the texts are designed as "mesostics", that is between two capitalized letters neither of the two appear, and are derived from "marcel duchamp, notes" by alexina s. duchamp and paul matisse. they are called "mirakus" in reference to "mirage verbal", the central vertical line, and "haikus", the japanese short poetical form. cage used the i ching to determine the collection of pitches. [note by joan la barbara]


SOLOS FOR VOICE 49 AND 67 from "songbooks" (1970)

song books (1970) is a collection of 56 parts in "book I" and 34 parts in "book II." these vocal solos and theatrical pieces may be sung alone or simultaneously with other solos or with specific selections of cage's indeterminate music. the techniques cage used in determining the pitches and durations in these songs include tracings of star maps and distributing materials over page space by means of chance operations determined by the i ching, the chinese book of changes. "solo for voice 49" uses a fragment from henry david thoreau's journal. "solo for voice 67" (subtitled navajo yei-bi-chi) is accompanied by the sound of a pile driver. [note by joan la barbara]


- intermission -

EIGHT WHISKUS (1984)

eight whiskus (1984) was composed for joan la barbara and premiered during her 1985 recital series "new works for the new voice" at symphony space in new york city. using "mesolist" and "i", programs designed for cage by jim rosenberg and andrew culver, respectively, eight "mesostics" were written on a text by austalian poet chris mann, using the first three words of the text, "whistlin is did" as the central vertical row. (the rule for a "mesostic" is that between two capitalized letters neither of the two appears.) the "kus" of the title refers to the short poem form, haiku and "whis" is, of course, taken from "whistlin". when cage presented me with these songs, he played them on a toy piano, the only keyboard in his loft apartment at that time. he was so pleased with the results of "eight whiskus" that he composed a series of vocal works, all with titles ending in "kus".
a fragment of mann's original text appears below:


"whistlin is did be puckrin up th gob n blowin thru a ol a brownie sod th box n i seen a compo front up n stack on a blue a bit of a spoon th doodlers hump arguing by buying up all buns n juice crack a fudge a droopie go th roy n late th light not worth a pinch a *bleep* the Big H geech n that's a fine how d y do 1234 doin twos a whos up who n blinkin cheek a one jump sit y ring n warby kinda facts that double dutch or wear th daks n though I says it as shouldn't the lips yd smack d be th biggest dill y meet "

MUSIC FOR THREE (BY ONE) (1984)

"music for … " consists of up to seventeen parts for voice and instruments without score, the title of which is completed by adding to "music for …" the number of player performing. In this case, la barbara has chosen superimpositions of different sections of the score, layering two parts on tape and adding a third section live.


ONE 7 (1990)

one7 (1990) belongs to cage's final series of "number" pieces in which time brackets indicate when a sound is to begin and end. numbers indicate different sonic material to be chosen at the discretion of the player. the solo "one7" is taken from "four6," composed for joan la barbara, leonard stein and william winant which was performed by them with cage at his final concert appearance july 23, 1992 at summerstage in new york city's central park.


THE WONDERFUL WIDOW OF EIGHTEEN SPRINGS (1942)

the wonderful widow of eighteen springs (1942) uses just three pitches to explore fragments from james joyce's "finnegan's wake" with rapping and tapping on the piano body and closed keyboard cover hinting at sounds of a strange forest.


NOWTH UPON NACHT (1984)

nowth upon nacht is a companion piece, composed in 1984 in memoriam cathey berberian. It also uses texts from "finnegan's wake" but, in sharp contract to the serenity of the work which precedes it, this is to be sung like a wild banshee shriek.

9:30 PM BUGALLO/WILLIAMS piano duo

this program is organized around two polar opposites: the highly deterministic, mechanical music of conlon nancarrow's studies for player piano and the highly in-deterministic feldman work, two pianos. lying somewhere in between these extremes are pieces by salvatore sciarrino and an unusually "free" canon for two pianos, also by nancarrow
STUDIES FOR PLAYER PIANO #3b, #20, #9 by conlon nancarrow

discouraged by poor performances of his early works, including the sonatina (originally written for solo piano—here performed in an arrangement by yvar mikhashoff for piano four-hands), conlon nancarrow turned to the player piano in the late 1940s. the "sonatina" is the first work that nancarrow punched onto paper rolls, in order to be able to hear it accurately represented. this led him to an exhaustive exploration of this unusual medium, resulting in a series of approximately fifty studies for player piano, both highly idiomatic and utterly original. canonic procedures, particularly those in which the voices are in different speeds, are used in nearly all the "studies," ranging from polyrhythmic imitation (#3b, #6, #9) to strict polytempo canons (#20, #32, #18, #15). these studies require absolute precision in performance, with limited interpretational freedom in regards to phrasing and dynamics. after repeated, failed attempts to precisely synchronize his two player pianos, nancarrow opted to introduce an aleatoric component in the conception of study #44. the work's unusual focus is thus on the always-evolving relationship between the two parts, rather than on their exact temporal relationship. he wrote: "this piece is for two non-synchronized pianos (a & b). the piece is so designed that the two parts can be played at any temporal relationship. best results are obtained if one part is played at a tempo that takes about one minute to complete one cycle and the other at a tempo slightly faster or slower, so that both can go through about ten cycles, with each cycle producing a slightly different relation between the two parts."


SONATINA by conlon nancarrow

TWO PIANOS by morton feldman

this piece was premiered in december 1957 by david tudor and john cage. precise pitches are indicated (as opposed to his entirely graphic scores from around the same time), but not rhythms. as in "study #44," both pianists play the same music, but, because of the rhythmic freedom, the effect is of a canon with constantly shifting roles of "leader" and "follower."


STUDY FOR PLAYER PIANO #44 (aleatory canon) by conlon nancarrow

SONATA FOR TWO PIANOS by salvatore sciarrino

the music of italian composer SALVATORE SCIARRINO often places great demands on the instrumentalists, especially by challenging traditional methods of playing. In his very early SONATA FOR TWO PIANOS, the two performers must simultaneously operate in two mindsets: one characterized by a great deal of indeterminacy (no precise rhythms, pitches, dynamics, or tempi are specified) and the other dominated by extremely precise ornamentation (black and/or white note glissandi of varying lengths, no less than fourteen different types of trills, and a wide range of clusters). the gesture of ornamentation is brought to the forefront. the work is in two movements: sonata allegro and minuet/trio. the "classical" devices of imitation, themes, diatonicism, modulation, development and recapitulation are clearly incorporated, but with an entirely novel sonic result.


STUDIES FOR PLAYER PIANO #32, #18, #6, #15 by conlon nancarrow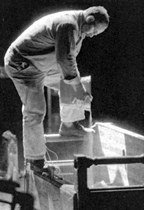 Wednesday, 02/28/07
7 PM SUBTROPICS MARATHON new music by various festival artists


the 19th edition of the subtropics marathon will include performances and works by russell frehling, juraj kojs, juan carlos espinosa, rene barge, armando martinez, and other south florida based artists. this year's marathon special guest is the fabulous margaret lancaster, the new music flautist from new york. she will be performing works by tampa based bonk festival composers and other works of historical importance
JARAK JAUH for piccolo/flute/alto flute and tape by nicholas brooke

this piece is inspired by the saluang tradition of west sumatra, in which two flutes play a single melody in close unison; subtle differences in each saluang's tuning and rhythm create a shimmering filigree. In jarak jauh, margaret plays against a recorded doppelganger of herself, which begins in distant canon. slowly, the flutes become one. sumatran saluangs also enter the mix, further blurring the distinction between live musician and recording. the piece is influenced by the keening, chromatic tradition of some western sumatran music, in which the singer often bemoans the fact that one's "other half" is missing or distant. In the matrilineal culture of west sumatra, men tend to merantau, or travel far away in search of a livelihood, leaving the women to sing about their absence. "jarak jauh" means long distance. performed by margaret lancaster
SEEGERSONG #2 for solo flute by james tenney

james tenney's seegersong #2 for solo flute is a spatial exercise whose structure unfolds subtly and lyrically to trancelike effect. it was composed in 1999 for katrin zenz on the occasion of the birth of her daughter eleftheria. performed by margaret lancaster
IN PRAISE OF BUDDY HACKETT for flute and tape by paul reller

this piece is written for and dedicated to margaret "the lung" lancaster, the only human yet able to play it, for both physical and aesthetic reasons. even midi flutes tire. buddy hackett is an american actor and spiritual leader. the hindus believe that everyone is god. performed by margaret lancaster
THE NEW IMPROVED TRUTH, BOOK III for flute and tape by eric lyon

like everything else, the truth can always be improved upon. the current truth might not make good people look good enough or bad people look bad enough. the selection of just the right photograph to make someone look more presidential, or more menacing, adds that extra sparkle to the truths reported in our media. strategic cropping of images, darkening the complexion of a face, editing out distracting and non-essential civilian body counts; these are all necessary tools for portraying the higher truth. the pursuit of better and better truth is a universal historic process. whoever creates the best truth wins. can you handle the truth? performed by margaret lancaster
FLUXATION No 2 (1992) by russell frehling
performed by gustavo matamoros
UNTITLED: ARTIFACTS / LONG LINES (2004) video by russell frehling

the soundtrack is part of a series called untitled/artifacts, which was started back around 1982 as a vehicle in which sound materials collected for installation projects could be developed in a live performance context. from the surrounding ambient noise extremely short segments, a few thousandths of a second long, are extracted and looped in such a way as to render them essentially static; the way that a photograph has the ability to freeze a subject in motion. these "frozen" waveforms (these days often referred to as "grains") are cascaded over time to create a continuously evolving sound. this technique is a way of deconstructing the ambient soundscape into its elemental components and reconstructing a new sonic encounter. regarding longlines the video - as with most of my work i tend to deal with the mundane stuff of my day to day world. this video is shot on my commute route to new york city via amtrack/subway. i used extremely high shutter speeds to capture the details of structures that are normally a blur.
AIR FOR FUJARA AND ELECTRONICS (2006) by juraj kojs

air is a composition scored for the physical and virtual fujaras. the composition presents a communication between the ancient bass pipe instrument and its ditigally modeled replica. the virtual fujara designed by stefania serafin extends the frequency range, amplitude envelope contour and duration, and timbre of the physical instrument. the model further facilitates circular breathing, an effect that is impossible to achieve by the physical fujara. the composition elaborates on breathing and overblowing patterns of various durations, shapes, and intensities. pitch material of 'air' is derived from the slovak folk music. formally, the composition follows the trajectory from the idiomatic sound of the physical fujara to the sounds produced by extended performance techniques, and, finally, to the sonorities of the physical model.
ALL FORGOTTEN FOR PIANO AND ELECTRONICS (2006) by juraj kojs

all forgetten belongs to a series of pieces inspired by poetry of st. john of cross. these compositions explore instrumental sonorities that lie on the border of hearing. the piano part is executed inside the instrument while bowing the strings with the fingers. the electronic part uses the "max/msp" implementation of the marimba physical model designed by stefania serafin. extending the instruments' possibilities beyond the limitations of the physical world, the virtual marimbas enable production of high and low tones not performable on the physical instrument, sustained excitation of the tones, tone repetition as fast as 1 event per 1 millisecond, real-time change of the beater qualities, and extremely rapid repositioning of the beater on the bar. while straining both physical and virtual instruments, 'all forgotten' releases suppressed beauty hidden in the tensed piano strings and dense marimba bars.
OPEN PIANO by juan carlos espinosa
EREBUS (2007) by juan carlos espinosa
HAL 9000 video by shaun vendryes
RESKINTHESIS by armando martinez

is an excursion into the world of percussive surfaces. the prevelant skins used for hand drums throughout time, namely goat, cattle, elk and buffalo are recorded into resynthesis software and morphed with raw waveforms to produce new exotic surfaces. these new textures are then sequenced, cut-up and processed with computer software whilst maintaining true to the intent of early human rhythm and non-linear percussive ideas.
200 WATTS(1997-2007) by gustavo matamoros

one sealed envelop is handed to each member of the audience that must not be open until instructed to do so
20 TITLES (c. 1980)
plus performances of seminal experimental and avant-garde works that include:

VOICE by toru takemitsu

CELESTIAL MUSIC by tom johnson

SONIC MEDITATION by pauline oliveros

IONISATION by edgard verese

CRITICAL BAND by james tenney

MUSIC OF CHANGES by john cage

IN C by terry riley

THE KING OF DENMARK by morton feldman

and others as performed by estellar musicians and ensembles from across south florida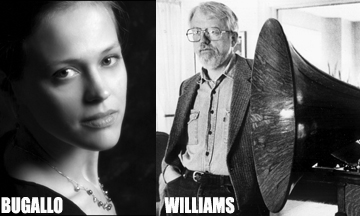 Thursday, 03/01/07
7 PM HELENA BUGALLO

helena bugallo performs the 90-minute long work triadic memories for solo piano by morton feldman
TRIADIC MEMORIES by morton feldman

"morton feldman completed triadic memories for solo piano on july 23, 1981. it is dedicated to the avant-garde pianists aki takahashi and rodger woodward, and is the composer's most famous piano work. consisting of over 1100 measures, it is also the longest. there is no designated tempo; performances and recordings can vary in duration from seventy to ninety minutes. only a few notes, generated from a sparse, two-bar musical cell, is the basis for all the ensuing material. this extreme economy does not betray a dry or deliberately challenging work. it is not especially demanding music, but rather it is inventive, beautiful, and never boring. one can only be amazed after listening to such an unprecedented achievement; most works of this length require the composer to fill it with as many diverse elements as possible in order to keep it interesting." ~ excerpt from review in All Music Guide

9:30 PM JAN WILLIAMS

percussionist jan williams performs an intermedia percussion concert featuring music by early fluxus composer la monte young and miami's gustavo matamoros
WILLIAMS TELLS OF RIGHTS (1997-2005) by gustavo matamoros

a song for snare drum written for jan williams. the sound text is built around the sound of the word "right" as used in the english language. when it appears, the word "right" is read aloud into a snare drum while the rest of the text is spoken softly. a long roll of the letter "r" is necessary to cause the snare drum to trill each time the word "right" is spoken


591 TO H.F. (1960) by la monte young

PICKUP STICKS (1998) by gustavo matamoros

a game of chinese pickup sticks is played over an amplified drum skin, its image also amplified several times its real size on a video screen. the task: try not to make a sound! in this snare drum piece it is the mistakes that release sonic "dreams & spirits" conceptually contained inside drum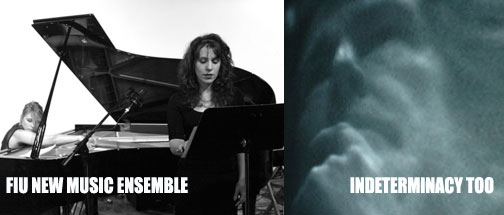 Friday, 03/02/07
7 PM FIU NEW MUSIC ENSEMBLE

chamber music by earle brown, john cage, morton feldman and lou harrison
FOLIO and 4 SYSTEMS VERSION 1 by earle brown

eliot rodriguez, clarinet; michael davis, viola; david mendoza, viola; edward shannon, viola; marta milosevic, piano; orlando jacinto garcia


4 INSTRUMENTS by morton feldman

rafael galvan-herrera, violin; roxana mendoza-guevara, cello; michael davis, viola; daniel venegas, piano; orlando jacinto garcia, conducting


PRIMITIVE for prepared piano by john cage

marta milosevic, piano


VARIED TRIO by lou harrison

rafael galvan-herrera, violin; daniel venegas, piano; zack eldridge, percussion


FOLIO and 4 SYSTEMS VERSION 2 by earle brown

eliot rodriguez, clarinet; michael davis, viola; david mendoza, viola; edward shannon, viola; marta milosevic, piano; orlando jacinto garcia, conducting

9:30 PM INDETERMINACY TOO john cage oral histories project

this oral histories project, constructed during the festival, will feature stories and anecdotes about john cage compilled from the numerous festival artists and attendees who new him personally. this video and sound event is organized by the interdisciplinary sound arts workshop in collaboration with laura kuhn, driector of the john cage trust, and barron sharer of cinema vortex
COMUNITY EVENTS
Saturday, 03/03/07
FLUX DAY
Those who will attend and participate in the many FLUXUS DAY activities on March 3 in Miami may come to understand why Fluxus has been simultaneously called both "high art" and "low art." Fluxus is an oddly ambiguous Latin word which, for over 40 years now, has been applied to a celebrated group of composers, musicians, artists, writers, poets, dancers, and other art professionals who were pioneers in developing interdisciplinary art. The original Fluxus artists formed a pillar of 20th Century Art, and its hard-to-define principles are still being expounded upon by art historians and excited young artists of today
11:00 AM - FLUXUS ON THE BEACH

events on lincoln road and out to sea in miami beach


2:30 PM - FLUX FAIR

events at carnival center's plaza of the arts in the main land


9:30 PM - FLUX EVE

a concert at carnival center's studio theater
Sunday, 03/04/07
10:00 AM to MIDNIGHT erik satie's VEXATIONS

at carnival center's knight concert hall
Saturday, 03/03/07 - FLUX DAY
11:00 AM - FLUXUS ON THE BEACH
FLUXUS ON THE BEACH

Fluxus has proven to be resilient and au currant! This will be seen on Miami's Flux Day when New York Fluxus artists Alison Knowles and Larry Miller present PIANO ODYSSEY (A Trojan Horse), an event specially created for Miami Beach starting at 11 AM at 800 Lincoln Road and traveling in a straight line to the sands of Miami Beach's eastern shore. Knowles and Miller, along with Gustavo Matamoras and others will perform classic works from the Fluxus repertoire of piano compositions and will present other events along the way, creating a unique opportunity for viewers to participate in a sonorous Fluxus journey to the sea.

This event will be dedicated to the late Fluxus artist Nam June Paik, who was a long time Miami Beach resident along with his wife Shikego Kubota, an internationally celebrated Fluxus and video installation artist. For this occasion, a selection of works from George Maciunas's 12 COMPOSITIONS for NAM JUNE PAIK (1962) will be performed during the "Odyssey" and the evening concert. A variation of Benjamin Patterson's A VERY LAWFUL DANCE (1962), and Eric Andersen's OPUS 1054 (early 1960s), which requires the simultaneous precision of four pianists, will be presented along the way.

On the beach, Knowles will premier her new work SHORELINE, using a sewing machine and assistants who will aid in building the work. Miller will conduct and perform other selected works; a highlight among them will be the rarely produced 88 NOTES by Albert Fine in which an article of clothing is removed for each of the notes played.

The piano will have an important function at the beach site, in the finale of its journey. Arranged by Miller, the pianist, will play themes from Debussy's "La Mer", as Miller pays homage to Nam June Paik, (Atlantis Pirate for Paik 2007).

An additional element will provide challenges for all participants: Selected events from the legendary FLUX SPORTS will offer the public – including children of all ambulatory ages – to participate in out-of-the-ordinary sports diversions. These may include such unusual contests as BLOW SOCCER (in which long small tubes are used to propel a ping-pong ball by breath alone) or BEACH BADMINTON, using rackets with six-foot long handles. For those who bring bikes there will be a SLOW BICYCLE RACE (last one across the line wins). Couples can dance to Ben Vautier's TANGO. And finally, the most likely contended event of all will be the ZEN DASH. You must be there to get the instructions.

And, bridging the geographical gap between FLUXUS ON THE BEACH and FLUX FAIR (back in the main land), Miami will experience the premiere of BAND MUSIC No 1 by gustavo matamoros, a moving piece involving the members of a marching band
Saturday, 03/03/07 - FLUX DAY
2:30 PM - FLUX FAIR (DO THE BEST YOU CAN)
back on the main land, at the carnival center's outdoor plaza of the farts, come enjoy part 2 of this fluxus day extravaganza and participate in the numerous fluxus activities and challenges rearranged by gustavo matamoros for participation by young and old. the different FLUX FAIR booths will include fluxus classics like:
OPERA INSTRUCTION (1961) by eric anderson

RAINBOW #1 FOR ORCHESTRA by ay-o

RAINBOW #2 FOR ORCHESTRA by ay-o

CHOISE 12 (1966) by robert bozzi

INCIDANTAL MUSIC No 2 (1961) by george brecht

INCIDANTAL MUSIC No 3 (1961) by george brecht

OCTET FOR WINDS (1964) by george brecht

SALE (1962) by ben vautier

AUDIENCE PIECE No 10 (1965) by ben vautier

WIND MUSIC No 2 (1966) by mieko shiomi

C/S TRACE (1963) by robert watts

MUSIC FOR PIANO NO. 5 (FLUX-VARIATION) by toshi ichiyanagi

...and more.
Saturday, 03/03/07 - FLUX DAY
9:30 PM - FLUXUS EVE CONCERT
join alison knowles, larry miller and a battery on miamians in a concert of classical fluxus pieces
during the FLUXUS EVE concert at the carnival center's studio theater, alison knowles and larry miller will perform some of their own compositions as well a diverse selection chosen from fluxus works by various artists such as eric andersen, ay-o, george brecht, philip corner, dick higgins, Toshi Ichiyanagi, joe jones, bengt af klintberg, takehisa kosugi, milan knizak, george maciunas, yoko ono, ben patterson, willem de ridder, takako saito, tomas Schmit, miieko shiomi, yasunao tone, ben vautier, yoshi wada, robert watts, and emmett williams. gustavo matamoros and a small group of musicians and performers will join the concert.

knowles and musicians will perform her work ONION SKIN SONG and with multiple readers, will conduct her classic NEWSPAPER MUSIC. miller will perform REMOTE MUSIC (FOR KEYBOARD) 1976, known for its minimalist fluxus style. a highlight of the evening will be the presentation of george brecht's MOTOR VEHICLE SUNDOWN EVENT (for john cage), most recently directed by miller in front of the dom cathedral in cologne, germany in 2005. in that version there were over 40 vehicles, but the miami realization will have an unexpected approach to the piece.

as miller explains, "a fluxus concert is characterized by the willingness of artists to collaborate at the most creative essence, to carry that impulse through on behalf of a group intelligence, and to sense the original spirit shaped by the unique time and place in which the events takes place."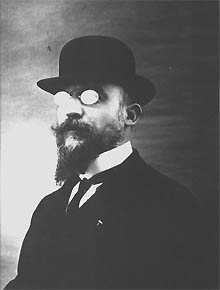 Sunday, 03/04/07 - 10 AM to MIDNIGHT

erik satie's VEXATIONS

lobby at carnival center's knight concert hall

this colossal piano performance gathers the energies of 30 pianists, both veteran icons of our community as well as young upcoming talents, and puts them to the test, each contributing 28-minute segment of the first miami performance of this 14-hour long piece. the list includes:


guests of honor: ruth greenfield and velia yedra

plus dennis kam, adrian quesada, juraj kojs, and more ...

10:00 AM pianist 1
10:28 AM pianist 2
10:56 AM pianist 3
11:24 AM pianist 4
11:52 AM pianist 5
12:20 PM pianist 6
12:48 PM pianist 7
01:16 PM pianist 8
01:44 PM pianist 9
02:12 PM pianist 10
02:40 PM pianist 11
03:08 PM pianist 12
03:36 PM pianist 13
04:04 PM pianist 14
04:32 PM pianist 15
05:00 PM pianist 16
05:28 PM pianist 17
05:56 PM pianist 18
06:24 PM pianist 19
06:52 PM pianist 20
07:20 PM pianist 21
07:48 PM pianist 22
08:16 PM pianist 23
08:44 PM pianist 24
09:12 PM pianist 25
09:40 PM pianist 26
10:08 PM pianist 27
10:36 PM pianist 28
11:04 PM pianist 29
11:32 PM pianist 30
12:00 AM

INSTALLATIONS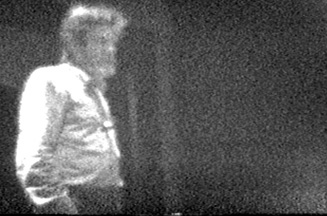 February 23 - March 4, 2007 - EXHIBITION
CAGE: RELEASED IN MIAMI

an intermedia installation comprised of materials from iSAW's Experimental Sound Archive, in colloaboration with the Louis Wolfson II - Florida Moving Image Archive and Deluxe Arts.


OPENING RECEPTION:

Friday, February 23, 2007 - 6-9 PM


Deluxe Arts
2051 NW 2 Avenue, Miami
305 858 7735


www.subtropics.org