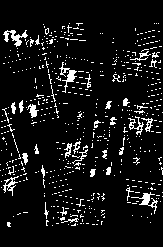 Home

Articles

Reviews

Hot Links

About Us
Hans Fjellestad
33
Fjellestad- piano, electronics, sampler, etc.
Accretions
ALP032CD
Can electronic music avoid its old tricks? Can it not sound bleak?
Can it still be truly weird, not standard-issue weird? Yes to all those questions.
And the strange thing here is that this recording has an acoustic piano base, or
at least acoustic piano DNA. Whatís inside: twelve tone pianistics that wonít behave,
structured chaos, frenzy you can follow. This is free music that came in out of the cold,
strange and unforgiving. The taped material and the live blend and give you something
neither could begin to if they were on their own. Track after track upended my expectations. Fjellestadís organic and inorganic materials are woven into bright, scary textures.
Contradictions are all there in living colors that reach out and arrest you.
Accretions
P.O. Box 81973
San Diego, Calif. 92138
www.accretions.com
Richard Grooms