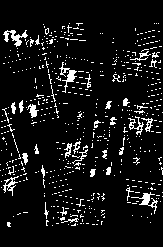 Home

Articles

Reviews

Hot Links

About Us
Telepathie
a_dontigny- computer
Diane Labrosse- sampler

No Type
Two Montreal improv-ers recorded live. A lot more happens here than
on most noise-oriented records. For one, the noise is varied a lot, and goes
somewhere. It does more than try to shock. And it doesn't sound like dreck.
I like the hyperreggae of "Media tactique" which like a lot of the outing here is
noise music you can follow. What's more, the large majority of the material here
enchants and surprises, and makes cacophony pleasurable. Hoodathunkit?
No Type
4580 ave. de Lorimier
Montreal (Quebec)
Canada H2H 2B5
<electrocd.com>
Richard Grooms