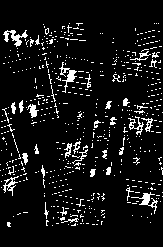 Home

Articles

Reviews

Hot Links

About Us
Buddy Systems
Gino Robair- perc., theremin, etc.
Here Robair sallies trios and duets with a cast of ten others.
Rationality: Robair wants to stomp that sucker flat. He does that here in "Tangle"
with John Butcher and Tim Perkins and in "Inappropriations" with Otomo Yoshihide.
Heavy electronic skronking contained within. A dramatic switch is evident in "Black Scales"
which reveals an introspective side to Robair & Co. The first duet with violinist Ladonna Smith conjures up large buzzing insects involved in rituals known only to themselves, but these provide auditory pleasure to humans. Called "Mysterious Vision", it earns the title in spades.
(Full disclosure: Smith is my editor/publisher). "Sklarking", another one with Smith,
also comes out of far left field and is also proudly weird. Yoshihide brings high-test
strangeness
back toward the end of the album with his turntables and CD player arsenal.
Not all cuts provide interest on this outing, but the ones that hit home make it more
than worth the listen or two.
Meniscus Records
3010 Hennepin Ave. South, Suite 217
Minneapolis, MN 55408
Richard Grooms