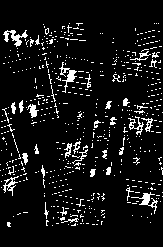 Home

Articles

Reviews

Hot Links

About Us
electro accoustic composition using field recordings:
"point of departure for making the whole songcycle a conscious
misunderstanding of language; coming from the idea that you can never
say exactly the same thing in a different language..stots and all the song
titles are in a secret language as an expression for the receiver to only
use their senses for perception; not a banal knowledge of dogmatic
or misunderstood information"...
Lukas Simonis; guitarist, composer, lives in Rotterdam (Netherlands) and co-founded
and works for WORM (a center for experimental arts). Most of his musician-live he
played in bands and projects that were avant-garde, experimental but still moved within
the field of 'rock'..(Dull Schicksal, Trespassers W, Morzelpronk, AA Kismet, Vril & Coolhaven).
His interest lays in abstract 'sound' direction using electronics, improvisation, voice, field
recordings and objects. From what I'm hearing, this music moves from slices of forward
and backward choking and gagging to a giving over to exploring the brittle beauty of saturation
in electro static, dripping, soaring ambient washes of sonic hints of everyday activities,
measurements on the scale of universal human activities vs. filtering habits, responding
in a quietude within the noise.
LS
Label: Z6 (NL)
distributors: Korm Plastics/Staalpallt/Rer Megacorp/Studio