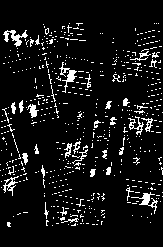 WE've MOVED
see new address and contact email in ABOUT US
Home

Articles

Reviews

Hot Links

About Us
below beyond above
Voice Crack
Andy Guhl (cracked everyday electronics),
Norbert Moeslang (cracked everyday electronics)
Swiss duo who play mostly invented devices constructed from cheap (?) electronic devices; toys, old circuits, radios...creating a severe yet oddly serene environment of crackles, beeps, loops of bumpy rhythms...this CD is pretty quiet compared to past works. These two often get lumped into the Noise camp, and to be fair, they've often collaborated with American wall-of-sound masters Borbetomagus, to make sprawling UR-symphonies, but here, things are almost pastoral. If this is a general trend for Voice Crack, I like it.
Separating it further from the 'noise as entertainment' aesthetic, this music is not just mashed together willy-nilly, but definitely sounds crafted, carved from piles of old parts. Moeslang-Guhl have discovered other uses for cast-off devices, and to prove the worth of said uses, they carefully add detail on detail to make their own sonic environments. I can't think of anything to compare this soundmaking to, though it may have correlates within the computer/electronic minimalist school thats become so popular in recent years. It just doesn't cost as much. Or sound as sterile.
There's an odd warmth here that causes me to re-listen, and I believe I'd do so even if I were not a big Voice Crack fan.
-jeph jerman
Uhlang Production
Steigerstr. 8
CH-9000 St. Gallen
Switzerland