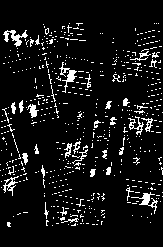 WE've MOVED
see new address and contact email in ABOUT US
Home

Articles

Reviews

Hot Links

About Us
Blind Pursuits
CD
Blind Pursuits
Jim Staley (trombone), Bora Bergman (piano), Phoebe Legere (voice, accordian)
The ten pieces on this 59.5 minute audio CD feature duets betwen Staley and Bergman or Staley and Legere. No single piece has all three artists on it.
Program director for the hot NYC performance space Roulette, Staley mostly keeps himself to one of three types of trombone playing, long tones, mumbling jazz style, and a digeridu style. He also plays some difference tones and does some jazz work with a mute. Bergman's style is a fast atonal frenzy of short notes and grand gestures. Ostensibly, this is due to his ambidextrous approach to the piano.
Classically trained Legere shows incredible improv music and poetry chops, both automatic and prewritten. Her voice can transition from just about any style and emotional tone to any other with great control and dexterity. Her accordian playing is an understated series of chord progressions. Her love song on track 5 is anything but understated. Is this the same artist as the Phoebe Legere of pop and country legend?
The pieces transition from the seriousness of the fast and furious Staley/Bergman gestalten to the humorous and intense Staley/Legere dynamic. Quite a wild ride, I assure you. - Glenn Engstrand