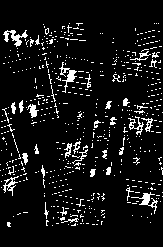 WE've MOVED
see new address and contact email in ABOUT US
Home

Articles

Reviews

Hot Links

About Us
Fidel
Koch-Schutz-Studer & Musicos Cubanos
Hans Koch (bass clarinet, electronics, samples, tapes, sequencer, soprano sax, tenor sax, ),
Martin Schutz (electric 5 string cello, acoustic cello, samples, electronics),
Freddy Studer (drums, percussion, metal),
with the members of Musicos Cubanos on latin percussion and voices.
On first hearing I could not shake the memories this disc conjured up. Bill Laswell-like bass (cello?) lines, dense latin percussion backed by driving drum kit...sudden bursts of a-rhythm and a-tonality that get interrupted by more percussing. I kept hearing Material...Golden Palaminos and 23 Skidoo, all bands I have loved at one time or another.
Some of the material here was dreamed up by the europeans, and some is apparently more traditionally Cuban, over which the improvisors improvise, somehow managing to never sound out of place. A cultural exchange?
I think this set points out the fallacy of musical boundaries, that sounds made by humans can usually find common ground, no matter how seemingly disparate their origins. Perhaps this is a political recording, something which I usually have little ear for. But when the results are this pleasing, this interesting...this much of a groove, I cease to care. I would hope that these three continue their musical explorations. How about a record with some Koreans? Or Morroccans?
A word about Intakt Records is in order as well. All of their packages I have seen are well made with beautiful color photos of the performers and plenty of liner text for those inclined to read it. I listen forward for more.
jeph jerman
Intakt Records
P.O.Box 468
CH-8024 Zurich
Switzerland
www.intaktrec.ch
intakt@intaktrec.ch