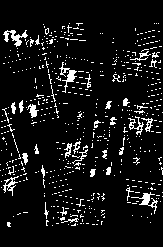 WE've MOVED
see new address and contact email in ABOUT US
Home

Articles

Reviews

Hot Links

About Us
Intermission - Unanswered Questions

"Intermission" is a band with a very unusual configuration of
instruments. Three of its members (Wilbert de Koode, William Parker, and Hideji Taninaka) all play double bass. The fourth member, Klaas Hekman, plays bass saxophone. Needless to say, they have the low end of the frequency spectrum covered. The five pieces on this 71 minute CD document their work with three other artists, guitarist Derek Bailey, pianist Chris Burn, and electro acoustic artist Gilius van Bergeijk.

In February of 1998,
they did a concert with Derek Bailey in Amsterdam, Precisely one month later and in Tilburg, they did another concert with Derek. This time, they did an accompanied tape piece of Bergeijk's called "Omaggio a Pasolini." Precisely one month later and in Breda, they did a concert with Chris Burn.

The pieces are wonderful, masterful. This music invokes highly evocative states of mind. It is pastoral. It is tempest. It is breathtaking. It is cosmic birth. It is final redemption. It is sound art at the edge of the abyss. It is free improvisation. It is what happens when an unanswerable question meets an unquestionable answer. Did I already mention masterful?

Guitarist, musical historian and author of "Extended Play, Sounding Off from John Cage to Dr. Funkenstein," John Corbett wrote the liner notes. He starts off almost poetically with a treatise on how low frequency instruments are hard to locate spacially. Then he poses a lot of unanswerable questions humself. He then gives some history on some of the musicians and on some of the music. The liner notes appear to be in both Chinese and English.

The CD itself comes in a plastic covering. The "J card" is in an asian style that reminds me of the cover of my Wilhelm/Baynes edition of the I Ching. Like the Chinese Book of Changes, the music of this CD is a confluence of elements that combine and recombine into different situations. It serves as an oracle into that which is both rich and strange. Beautiful.
Glenn Engstrand

BVHAAST 9906
Prinseneiland 99
1013 LN Amsterdam, Holland
http://www.ejn.it/ag/bvhaast.htm
boeket@antenna.nl
wbk@xs4all.nl