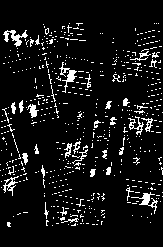 WE've MOVED
see new address and contact email in ABOUT US
Home

Articles

Reviews

Hot Links

About Us
Live @ Banlieues Bleues
Joelle Leandre (bass),
Francois Houle (reeds),
George Graewe (piano).
A live recording by three of the heavier weights in Europe. Love it when people listen. Lots of space is accorded any new idea that springs up, and they constantly do. Emphasis shifts continuously from breath to vibrating strings and then to hammered string set. Sometimes I wish for a drummer, but then I remember to listen.
'Halos' is all harmonics...'From Limbo' starts with crunching and squeaking bass strings with quick runs and clusters from the piano. A crack and back to work, wait...go...wait...stuttering reed and pizzicato high strings...squeak screak...all unfolding like a story, which is how, I'm told, music is supposed to be.
'Aizi' definitely sounds like classical piano music. Or the way Cecil Taylor's dance slips between the cracks, Houle swinging around on a rope above the keyboard. It often sounds like these three are reading each others minds. Or a chart!
'Demonique' enters as it should, like a demon, or as much like one as piano, bass and clarinet can sound. Slips down a little, but keeps fighting... and then it's over. KNow the demons name and you control him.
A well recorded set of inspiring music. Nothing earth shattering, but then again, what is anymore?
jeph jerman
Red Toucan Records
9527-A Foucher
Montreal, Quebec H2M 1W3
Canada
Tel: 514 381 0003
fax: 514 381 0004