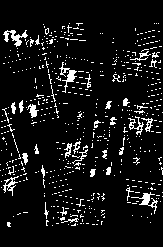 WE've MOVED
see new address and contact email in ABOUT US
Home

Articles

Reviews

Hot Links

About Us
TORPOR
CD
Morgan Guberman
Morgan Guberman, solo contrabass
I reviewed Morgan's first solo CD for contrabass last year (Hamadrayas Baboon), with great acclaim for those listeners who enjoy improvisation and compositions that take music a "step further". Listeners who must envelop themselves in pattern and familiarity will have a hard time with this. The title cut is a hoot, repetitive ah, ah, ah, ah over Morgan's strums. Cut 12, story, was a favorite for me, probably because it's rhythm based. Listening to this is a pleasure for me, since Guberman has an excellent sense of simple construction. I'm sure there is a tendency for solo bass players to want to "fill" everything up, make it sound more complex than it is… Morgan seems to approach it from a much calmer standpoint, no need to camouflage the sparse with tons of notes. That's much better for the creative listener, anyway, as those tones are still there for them to hear. Another FINE effort… hope to hear more from Morgan soon! Gets a MOST HIGHLY RECOMMENDED for any/all into adventurous music(s)!
-Rotcod Zzaj
Morgan Guberman
2424 E. 11th St.
Oakland, CA 94601
USA
hamadryas@earthlink.net