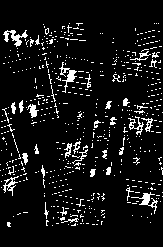 WE've MOVED
see new address and contact email in ABOUT US
Home

Articles

Reviews

Hot Links

About Us
Bug
Nicolas Desmarchelier (guitar),
Olivier Toulemonde (treatments).
Improvised duets between a guitarist and a sound processor. There would seem to be a lot of this sort of thing going on these days, Evan Parker's Electro-Acoustic Ensemble being a good example. There's also a bit of contention as to whether it's valid or not. Well, validity is largely a cornerstone for purists, and most buildings do crumble eventually...
So listen. The ghosts of a million string stranglers come wafting up
through clouds of static. At times this does sound like two people and at
others it's a glob of sound. Obviously, one of the reasons for improvising in this way is the uncertainty factor. The guitarist may not know exactly which of his sounds is going to be heard, or in what form they will come out. I would say that makes for exciting playing. It makes me wonder whether Desmarchelier is playing continuously and reacting to the manglings of his sound, or whether he is contemplating his next move quietly.
I would also venture that this process is akin to the literary method of Cut-ups, whose aim was the breaking up of lines of association w/in thought patterns. In both cases the end result is a beautifully wrecked language. Wish it was a bit longer.
jeph jerman
ISHTAR Collectif
Maison des Societes
Bd Joliot Curie
F-01000 Bourg en Bresse
France
+33 (0) 4 74 24 38 64
ishtarco@infonie.fr