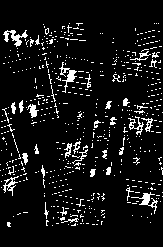 WE've MOVED
see new address and contact email in ABOUT US
Home

Articles

Reviews

Hot Links

About Us
no99
(the No Music Festival 1999 box set)
Fred Van Hove, Ken Vandermark, Jon Borges, Unclean Wiener, Kurt Newman, Eric Chenaux, Christian Kiefer, Borbetomagus, Solmania, Jay Bellchamber, Jim O'Rourke, Alan Licht, Michael Snow, Nihilist Spasm Band...in various combinations.
By at least one account I've read, this collection is recorded quite a bit better than last year's set from the previous festival, and with one less CD, itıll take up less of your time! It's still a big earful though. 5 CDs worth. Basically, this documents the second annual festival honoring the London, Ontario-based Nihilist Spasm Band with performances by them as well as many other names and not-so-names.
There's a lot of 'noise', and, surprisingly, a lot of quieter sound too. The bits that stood out for me were invariably the ones that differed sonicallyfrom the feedback-laden string mangling and ham-fisted drum bashing, both of which have their merits, but let's be realistic. Just how much of this stuff can you sit still for in one sitting? (I pondered trying to listen to the whole set in one afternoon, but wisely decided to spread it out over several days, which is how the event documented here actually took place. )
So, my own personal highlights would include the Alan Licht/Michael Snow pairing of guitar and piano, listeners both and fleet of finger and thought; Ken Vandermark and Fred Van Hove's sax/organ duet, massive chords and rise/fall/rise structurals; Christian Kiefer's mumbly banjo playing and Jim O'Rourke's breaking out the Led Zeppelin song book during his 'duet' with Knurl. The three tenors set by Vandermark and the Borbetohorns Jim Sauter and Don Dietrich also put a wide grin on my face. Nice to hear them without all the amplification. The Nihilist Spasm Band stood out for having a vocalist, announcing song titles and special guests, and often being trod on by the other instruments. Not really a problem, as his voice then becomes another noise among many.
The rest of the set is largely a rock-volume scream-a-thon, and dont get me wrong, I like this stuff, but after awhile it all tends to blur together, (which may actually be the point, intentional or otherwise). This listening experience largely mirrors big city life and modern media saturation gone haywire, which I suppose is a natural occurance. Every society harbors the noise-mongers it deserves...
One thing that kept nagging at me during the time I spent with the no99 box set was the utter lack of interesting drumming. This may be due to the drums' acoustic nature and the fact that the only path open to a drummer faced with high decibel guitaring is bash and crash, but it all sounds very amature to me, and I wonder if maybe the drums' future with noise bands is a limited one.
And where are the women?
jeph jerman
No Music
bp687@bard.edu
Nihilist Spasm Band
pratten@sympatico.ca