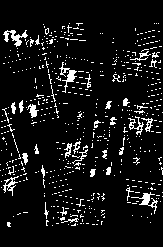 WE've MOVED
see new address and contact email in ABOUT US
Home

Articles

Reviews

Hot Links

About Us
Peering Over
edgewalker experimental instruments consort
Doug Carroll (sonic ray), Ted Dutcher (techphonic plate), Glen Engstrand
(north star), Jim Hearon (crustacean), Ed Herrmann (t-rodimba),
Gary Knowlton (techphonic plate ), Mihai Manoliu (bug), Lisa Moskow (11 trees), Vinny Nicastro (t-rodimba), Tom Nunn (bat), Randy Porter (bug), Garth Powell (beetle),Moe Staiano (techphonic plate 1, drums), Peter Valsamis (techphonic plate, drums), William Winant (crab).
This CD presents a performance by a large group utilizing instruments designed and built by Tom Nunn. Some of the pieces are written, or maybe directed, by different members of the ensemble, while others are free improvisations. The liner notes state that the instruments are, for the most part, new to these players, which I feel lends a feeling of discovery to the music. The instruments in question are odd beasts indeed. Electro-acoustic Percussion Boards are plywood sheets with various soundmaking devices attached, which are struck, scraped, plucked, strummed, rubbed or bowed to produce mettallic timbres and voice-like sounds.
Space Plates are stainless steel sheets to which are welded lengths of bronze brazing rod, placed to facillitate two-handed bowing. The plates rest on inflated ballons in small buckets, giving the whole a very resonant sound. Balloon/Slap Drums are PVC pipes of various lengths, with either balloon or cardboard heads. Each set of drums has 26 different tube lengths.
The music itself is sometimes reminiscent of Harry Partch's music, or
the metal sound sculptures of Harry Bertoia, with a myriad of pitches and timbres colliding. Some pieces are mostly percussion/rhythm based, and others are more ethereal. It all sounds quite human though, and quite coherent and organized for a bunch of people playing instruments they are not completely familiar with.
The recording is an 'open air[[ job, capturing the sounds of the instruments in the room, and while it is clean and pleasant, I do wish that the individual voices of the instruments were clearer. It also would be great to have a few photos to gaze at while this completely original music is playing on my stereo, but I'm nitpicking. (If you're interested in Tom Nunn's creations, pick this up and then spring for a copy of the 'Gravichords, Whirlies and Pyrophones book and CD set put together by Bart Hopkins. It features a solo recording of Nunn, along with a clear photo of several instruments.)
-jeph jerman
Ramp Records
Tom Nunn
3016 25th St.
San Francisco CA 94110