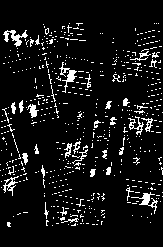 WE've MOVED
see new address and contact email in ABOUT US
Home

Articles

Reviews

Hot Links

About Us
The Long and the Short of It (elc 12017)
John Jasnoch – electric guitar, accustic 12 string guitar, lap steel guitar, mandolin, tenor banjo
Helmut Lemke – strings, tapes, tenor sax, bass clarinet, voice
A playful, yet edgy, immediacy, is what first jumps out at you on this CD. These live improvisations actually sound improvised – raw, on-the-edge, physically palpable. You can really feel the music being created in the respective environments.
Though both players have easily distinguishable sounds and styles: Jasnoch, a fleet-fingered, wiry twang that manages to sound laid-back and propulsive, idiomatic and non-idiomatic, at the same time; and Lemke, a wide-ranging, unpredictable, forceful, almost rambunctious, personality that comes through strongly on each instrument – it is their tandem sound that puts this CD on a higher level than most.
It's a hard-scrabble, bustling sound that builds in intensity as the pieces develop but not in predictable ways. There's a complex, almost paradoxical, manner in which these two improvise together. Though there's obvious rapport, their energies don't always "mesh" in harmonious accommodation. The resultant music therefore has a razor-sharp "aliveness" " to it, a sense of intense concentration, rather than competition, that I find exhilerating. This CD captures that elusive, "in the moment" sound of a good duo gig as well as any I've heard.
-wally shoup
Contact:John Jasnoch
66 Robey St.
Sheffield, S48JF UK