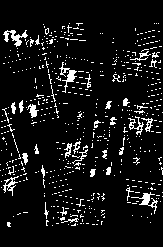 WE've MOVED
see new address and contact email in ABOUT US
Home

Articles

Reviews

Hot Links

About Us
Review of a visit to Toronto:
Improv meeting at Victory Restaurant
Tuesday Sept 5, 2000
Kurt Newman- solo guitar
From sparce introductions converging into interesting personal tonalities and languaging for guitar, electric frazzles transforming sound in a slow rise of intensity, cry baby gets a new meaning. Coaxing an expression dry and fragile as rare mosses (music) growing on a riverbank, speaking silently as the wilderness night sounds. From a hollow bodied electric, Kurt Newman coaxes a variety of sounds in hammering, stroking, rubbing, fingerings and placements, creating a contrapuntal deluge of simultaneous musical noise, harmonics, and sound events. One of the most interesting new stylists I've heard in a long time.
John Oswald-alto saxophone, Allison Cameron-assorted things, Mike Genera-drums
Splashes of percussion, understated saxophone, contact mics on enigmatic objects, and exploring the territory gradually. Genera was extremely interesting to watch. His actions were very alert almost like he was about to bust forth with energy, always poised for the next attack. It was the point of poise that I found so captivating, although his accents and punctuation were varietal and well placed. Contrast that with the enormous understatement of Oswald and Cameron-- John with a tee shirt stuffed down the bell of the horn, Cameron leaning intently over the two boxes and processor, as she fiddled with a contact mic on the table, providing a subtle background of white noise. Layer that with Oswald's deceptive vocal feedback through the horn. The music reminded me of the biological level, elements of heat, atomic particles swarming around a center, a nucleus, noticably responsive and alive.
LaDonna Smith, yes, that was me, too tranced out to remember anything other than playing solo viola, and in trio with Angelique von Berlo-accordian and John Oswald-alto saxophone wrapping up the gig, in a sonority discussion that culminated in a rousing groove.
-LS