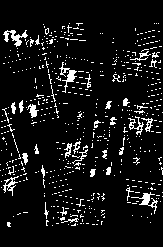 Home

Articles

Reviews

Hot Links

About Us
Resonance
Daniel Carter/Randall Colbourne/Paul Flaherty/

Raphe Malik/Sabir Mateen
First thing these jazz improvisors need ta' do is to come up with a GROUP NAME, eh? There are two (very) long ensemble pieces on here, full of enchantment and adventure for those who get excited by well-played and visionary jazz improvisations. Though piano and drums/percussion make "guest" appearances, the focus (this time 'round) is on the horns. Swirls in collage that are occasionally overpowering… almost never slowly. You must be "involved" in your music to enjoy this, because the voices are in search of respite all at the same moment. You've heard of tension and release? Well, this is 90% tension… the WONDERFUL kind… th' kind that gets you hex-cited, toes flexing & arms waving! If you can get down into THIS choir of cacophony, you won't NEED any coca - like, free high! I'd rather have heard a few shorter pieces, probably, but in th' context they're playing in, it fits. If you listen carefully, you'll hear that the piano is almost as energetic as the horns, sorta' serving as a "platform" for th' horns to parade on. Those who prefer gentler jazz will shy away from this, but volkz' with hyper-musical sensitivity will LOVE this (as I did).
Rotcod Zzaj
POB 1024,
Manchester, CT 06045
(no e-mail furnished).