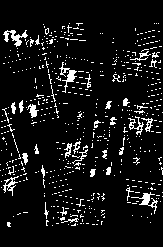 Home

Articles

Reviews

Hot Links

About Us

FLASHPOINT / FLASH FORWARD

10th ANNUAL
DC INTERNATIONAL IMPROVISATION FESTIVAL



What: Improvised music, dance and theatre



Flashpoint / Flash Forward brings together several of Washington, DC's
most notable improvising dance, music, and theatre artists in a
kick-off event to celebrate the upcoming 10th annual DC International
Improvisation Festival, December 3 to 12, 2004.

So, what's so hot about improvisation, anyway? Isn't it the artist's
job to figure out what they're trying to tell their audience and then
practice or something? Not in this crowd. For many years, improvising
artists have explored the possibilities of walking the tightrope that
is spontaneous performance. No need to worry about your "inner critic"
when you're on the hot-seat: no way to re-write something you just
said, no way to change a wrong note you just played. All you can do is
re-contextualize each choice in the next moment. Now try that in an
ensemble. Now try that with a multi-disciplinary ensemble. Now we're
onto something...

For the Flash Forward preview, artists will transcend genres and styles
to create original, unscripted performance works. As usual, the
unexpected is to be expected. Spontaneous Combustion features the
athleticism of Wendell Cooper, the subtle and often humorous responses
of Nicholette Routhier, and the wildly imaginative performance of Maida
Withers to music performed by Anubodh on Bansuri (an Indian Bamboo
Flute). Jane Franklin will perform her improv structure "Whisper" with
live music and video. Ginger Wagg will dance an enchanting improv solo
directed by the distinctively quirky Sharon Mansur. Mark Chalfant and
the Washington Improv Theater, will improvise scenes with live music.
That's only the beginning. What else might happen is anyone's guess.
THERE WILL BE A PREVIEW of the Festival
When: Wednesday, October 20, 2004, 8pm
Cost: $10
Who: MUSICANS: Jonathan Morris (guitar), Tom Bickley (recorder, voice,
electronics), Anubodh (Bansuri); DANCERS: Spontaneous Combustion
(Maida Withers, Nicholette Routhier, and Wendell Cooper), Jane
Franklin, Jane Jerardi, and Sharon Mansur / mansurdance with Ginger
Wagg; THEATER: Washington Improv Theater (WIT)

Mead Theatre Lab at Flashpoint
916 G Street, NW
Washington, DC
(Metro: Gallery Place)

For more information call: 202.315.1315 or visit
http://www.improvfestival.com