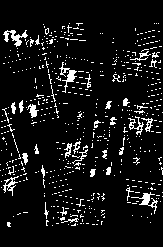 WE've MOVED
see new address and contact email in ABOUT US
Home

Articles

Reviews

Hot Links

About Us
Book Reviews

by Davey Williams

Playing Ad Lib: Improvisatory Music in Australia 1836-1970

by John Whiteoak


Currency Press Ltd., 1999
PO Box 2287
Strawberry Hills
New South Wales, Australia
ISBN 0-86819-543-X

www.currency.com,au

One might think that a book on improvisatory music in Australia between the early 19th century and 1970 might be a point well missed. What improvisatory music? one may ask, considering that the early 1970s is just about the time free improvised music began to rear its head 'down under' on recordings and performances.

In the course of answering this question, Mr. Whiteoak has written a singularly important work concerning the origins of improvised music. Presented ostensibly as a peculiarly Australian experience of new music's evolution, involving traditional European-inherited musics, 'imported' American forms such as jazz, ragtime, vaudeville (already an amalgamation of African-American and 'Euro-American' forms), and influences from the continent's own aboriginal cultures, Playing Ad Lib is in fact a profile of how free improvisation found its origins throughout Western culture.

Or more generally: any European culture informing, and being informed by another, non-European culture. More specifically, Mr. Whiteoak notes a symbiotic relationship between what he calls "Approved" and "Anonymous" genres of music. "Approved" music-making - i.e., that descended from the European colonials - includes "professional concert-hall and salon recitals, opera, organized amateur activities such as choirs and brass bands, and the systematized teaching or learning of performance practice...those which were considered to reinforce social cohesion. Together, they represent one aspect of what was described in the nineteenth century as 'rational recreation.'...In many cases these are simply pleas to support activities which stood in contrast to drinking, gambling, fighting and other socially erosive activities."

This genre is contrasted by "Anonymous" music-making, "less socially approved, or more 'irrational' forms of entertainment such as street or hotel entertainment, circus, variety or blackface minstrel shows, silent cinema, public dancing and so forth. Much of this music-making falls into the category of utilitarian accompaniment practice, which further underlines its lower socio-cultural status."

Mr. Whiteoak then nails down some surprising and ironic aspects of these "Anonymous" music-makings, in which one finds most of the vital components of improvisatory music-making, though significantly not all the vital components, which are only to be found in "Approved" music-making.

To begin with, he notes that "Anonymous" musics fell into "one or another category of what is described today as popular entertainment." For most improvisers today of course, that's laughable, but improvisatory practices in that time really were also associated with "playing for money," each situation demanding uniquely varied and adaptable music "that could cut through underlying noise and demand attention...Accompaniment to theatrical entertainment genres such as variety, burlesque and pantomime provided musicians with considerable latitude to transgress legitimate practice in a creative way [and] thus created a broader base for the acceptance of a spontaneous or seemingly spontaneous exploration of extended musical possibilities."

In using Melbourne, and the composer Percy Grainger as his primary examples, Mr. Whiteoak has created a model of how certain aspects of free improvised music developed throughout Western cultures; how they first utilyzed inherent musical freedoms, then revolutionized them, then metamorphosed them, then made them underlying principles of musical freedom, to be revolutionized in turn.

It is important to note here that despite the apparent antiquity of the book's subject matter, Mr. Whiteoak's viewpoint is thoroughly that of a deeply informed, modern-day improviser - whether he plays music or merely has an encyclopedic understanding of it. And 'encyclopedic' is no exaggeration; the path he traces starts way back in the century before last, so to speak, and winds its way through an insightful and original view that carries on into the seminal work of Grainger into the even more directly improvisational work of Keith Humble, Barry McKinn and Robert Rooney in the 1960s.

It is also important to note that this book is thoroughly packed with information, a real blow-by-blow examination of a largely ignored aspect of free improvisation. Profusely illustrated with engravings and photos of these once-forgotten musicians, their gigs, flyers, programs, ticket stubs and a large collection of musical composition exerpts from minstrel shows to graphic scores, this book constitutes an important addition to the rather small list of books on improvisation that actually get it right; understanding improvisation as being singularly equipped to constantly reveal:

"...something that may still prove to be the most significant aspect of improvisatory musical practice: its potential as musical Esperanto or, perhaps, pidgin, enabling expressive cross-generational, cross-gender, cross-cultural, cross-aesthetic, creative, harmless, educational and joyful human play."

As an aside, it's my opinion that the reason it stops in 1970 is that the rest is history anyway.