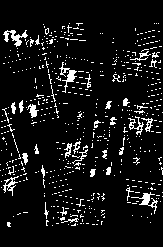 WE've MOVED
see new address and contact email in ABOUT US
Home

Articles

Reviews

Hot Links

About Us
Women Make Half
the Sound Festival 2000
March 15, 16
HOTHOUSE, CHICAGO live!!!!!
by LaDonna Smith
I walked into the room to a superbly stunning rhythmic percussion piece on a couple of 2 X 4's laid on foam rubber set on music stands. Carrie & Jack the Dog (Carrie Biolo and Jeff Kowalkowski) were the opening act! What followed was a series of highly sensitive vibraphone and piano duets. There was a counting piece for two voices with animated conversational interruptions, some French café styled accordian mixed into the instrumental pallette. With rhythmic and dynamic interest and sensitivity, their well structured set kept the audience engaged. It was a technically brilliant set.
Laura Lee Moses launched freeform improv for traditional jazz instrumentation which included her on alto/bari/piano, with Cecile Savage- bass, David Pavkovic-drums, and Rob Mazurek- cornet. Ed Ludwig was the missing drummer who had a work-conflict that evening. Moses,a multi-instrumentalist wind player & pianist, composes/improvises free jazz style. The second piece was a composition written originally for Eric Leonardson's famous "Springboard". It featured a prominent rock syncopation between the bassist and the drummer, colored by sparkling riffs on cornet and lush changes on the piano. All parts seemed to be in contrast with each other, hallmarked by a catching beat which disintegrated to spiritual improv excursions weaving in and out of its own themes. One moment arrested us all, plowing violently in aggressive blowing "Machine Gun" style. By contrast, the next piece employed single note contributions wrapped in a heavy air of space, or total understatement. The piece closed with a silence so pregnant that the Hot House air conditioner was an equal contributor to the composition…and remarkably, even the band members seemed to not know exactly whether or not it had actually ended.
I guess one of the reasons I was present, indeed to write about this little festival of women was the fact that I, too, was invited to play! (LaDonna Smith) It goes without saying, I will not review my own music, but I did have the sense of satisfaction knowing that I had turned my subconcious over completely to channel Spirit, and Spirit gave me some gifts to deliver. That is all I can ask. As I recall, it was fairly intense. Mostly viola and voice solo avalanche.
The final set was the sweet icing on a very spicy cake of an evening. Maggie Brown wooed the audience with mellow soul ballads, sensitive songs with titles like, "Get Understanding" and "Walkin in Your Brother's Shoes". The stark beauty of the voice alone, accompanied only by a single solo string bass. "Feather, does it depend on the weather?"…"or love to fly around"…
The second evenings program featured Robbie Hunsinger, double reeds and Tatsu Aoki on string bass in an absolutely exquisite first set. It wouldn't have mattered to me if were the only set of the evening. It was absolutely great.
Robbie opens with a shenai solo (Chinese musette) invoking spirit into the room, in a lonely call of the deep. Tatsu enters carefully with a komungo-like quality, also with the tone of an invocation. In this piece I could rally get the cross connection between Asian music and jazz, a sisterhood created by contemplative evocative research into the interior place, and allowing the instrument to speak and explore the range of that inquiry. Just as I was becoming comfortable, the rhythm seized the moment as Aoki repeated relentless a bass pattern that was neither rock, nor jazz, but some melting together of the two, as Hunsinger's continuous exploration and patterning around was so seamless that I didn't even notice when she switched from English horn to clarinet. This happened frequently. She would change colors by changing instruments in an organic, progression akin to a slow crescendo coming on before you know it.
The third alluded back to the first, but this time in a haunting fashion, the shenai was played into a snare drum creating additional "reactive" resonance. Time felt totally suspended as Tatsu sustained a simple abstraction of insects and the suspence of a hot day in the desert, transforming ito the repetitive rhythm of urban meditation, that is… groove.
Aoki introduced the fourth piece as the bass transformed renderings of natures insect drones. Robin treating here melodic contribution of the wooden oboe in much the way a Chinese opera shenai player would imitate bird song. Frequently, Tatsu's sense of groove would revert to a uniquely original rendition of the human heartbeat, but realized through the use of extended techniques such as his alternating single note and strummed harmonics. Robin's smooth mastery of her instrument was evident in extraordinary breath control and phrasing sensibilities in some of the most extended linear playing which developed slowly over the illusion of time standing still, or long waiting.
After one dreamlike excursion into another, drawing thin images of blues, jazz, and Asian music, nature, birdsong, and the ticking heart, the dream faded… and ended. Yet we were left still in the altered state created by the music… thus we were transported.
BLACK EARTH was also a pleasurably interesting group with a varied and interesting program. Band leader Nikki Mitchell (flute) was joined by Marlene Rosenberg -bass, Davu Seru –drums, and Iyiola –"messenger of movement".
An upbeat entry of straight ahead "head" jazz fare, "Sweet-tooth" was fronted by flutist Nikki Mitchell, interrupted by two very signature solos. First the bass solo of Marlene showed jazz prowess and instrumental virtuosity as did the colorful gestures of Chicago's promising young jazz drummer, Davu Seru. Now, he is a guy to watch for! The music was pleasurable enough to listen to, although it was derivative of classic jazz styles of the past generations, although the set became much more abstract as it went. Clearly, the virtuosity of Nikki, revealing itself more and more as the music got deeper. A highlight of the set was the appearance of a young African American dancer whose slender arms and frame expressed emotions and processes of joy emerging into life from the womb, and there was another dance, more voluptuous, of a young woman coming of age. It was remarkable to denote the synergy between the women, and the almost androgenous quality of the instruments. The bass in the hands of Marlene, the sensitivity of the male drummer, his delicacy, and the leadership exuded by the highly feminine and delicate beauty of the band-leader, flautist Nikki Mitchell. The earth quality was a sure feminine energy with masculine strength, and androgenous soul.
Andrea Parkins, accordian/electronics, of NYC was the outside guest for the evening. Starting with a wash of sound, generated from the accordian, but modulated by devices, delays, and electronic loop and modulations, the music quickly accellerated to a relentless roar which both assaulted and filled the space. Complete with feedback and distortion, you would think you were in a sonic chamber, being transported to the next dimension. Moving from terrorizing to "other worldly"and angelic, she set the tone for an experience from amplified underwater ocianic vibrations to earthly crisis. At times the uncontrolled feedback was so intense that I had to hold my ears, but aside from that, the fierce sound was equally registered in the tense facial expressions of the performer. A lot of gut wrenching, a helping of pain. An aesthetic of compounded complexity in electronically saturated rampages. Although Andrea Parkins handles the accordian like a lady wrestler, her treatment of the accoustic piano was no less aggressive, pounding out what could have been the reflection of a terribly bad time at the New York Airport, having finally arrived in Chicago many hours later than expected. Who knows? A musical offering of sheer rage.
When Andrea did return to the accordian, it was a continuation of the theatre of assault, as subtle sounds from the accordian were drowned away in a roar of noise and octave divides. The women in the audience were being run off in groups of threes, while the men were leaving single file. Only the fittest survived. The set proved to be cleansing by exhaustion.
Toe2000 (Yoko Noge- voice, Dave Pavkic-drums, and Griffin Rodriguez-bass) featured Yoko Noge, well known in Chicago as a jazz-blues singer. On this set, she sounded nothing like the "southern" blues, or Chicago style, like I expected, but more of a new era of urban honesty, Japanese style blues emotion. She began with energy, a funk rock background as Yoko fronted with the grace and beauty of traditional Japanese art. Surges and waves mixed and blended between the guitarist and the bassists' electronic effects work. A relentless throbbing maintained a trance like quality as visually Yoko maintained a stoic quietude before her vocal interjections, words in Japanese, unintelligible, but direct, largely spoken. Segue to almost Marlene Dietrich, segue to techo-pop bizarre mix of elements as eclectic as the HotHouse itself. She spoke her poetry, she sang her songs, and transformations did occur. I enjoyed the intricate understated ostinatos of the guitarist (who was he?) with the raw and naked energies of bassist and drummer. A straight-forward backup with enough querks, color, subtlety, and originality to compliment and enhanse the muse, Yoko, her message and laments,
"Slowly to the edge, slowly to the center...."