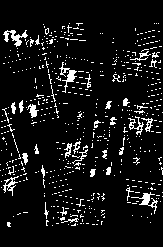 WE've MOVED
see new address and contact email in ABOUT US
Home

Articles

Reviews

Hot Links

About Us
LMC Annual Festival
of Experimental Music
London South Bank Centre May 27-29 2000
by Viv Corringham
Now in its ninth year and with a shameful lack of funding, the London Musicians' Collective Festival cut some costs this year with smaller groups and more local musicians and was none the worse for it. First though I should confess to a lack of objectivity here, as I was playing on the second night and subject to nerve-clouded judgement.
The festival opened with David Toop, Jin Hi Kim and Frank Perry making beautiful, subtle sounds on flutes, komungo (Korean zither) and percussion which included a huge, richly resonant singing bowl. Stevie Wishart followed with lively violin and vocals before moving on to the hurdy-gurdy, her main instrument. She used electronics to take it from its acoustic, traditional sound, of which I would have liked rather more, to an edgy electric guitar quality and even into dance rhythms.
Three men at three tables, their only light source three monitors, each screening one moving eye, and we're in Die Trip Computer Die territory. They play densely textured pieces where, amazingly, they all know when to stop, interspersed with a surreal humour in relating with the audience.
Last on the bill was the legendary Walter Marchetti, formerly of scandalous "destruction in art" group ZA. When I saw the grand piano I was sure it wouldn't be played. Walter sat parallel to it, his back to us, facing a score whose pages he turned in response to recorded music of treated piano. Impatience vied with relaxing into the poetry of it and pondering ideas of our role as audience, the parallel of composer and the music itself, and listening to the different ways that people walked out- some aggressively noisy, some apologetically on tiptoe.
The second night began with My Heart's In Motion, my project with guitar, bouzouki and samples player Peter Cusack. We expanded our duo to include double bass, saxophone, tabla and the turntable wizardry of Quebecois Martin Tetreault in a set combining songs and soundscapes. Obviously I am the last person able to comment on its effectiveness or not! Unfortunately the post-gig collapse meant that I missed ex- This Heat drummer Charles Hayward's solo. A pity, as I like his quirky songs and ferocious drumming. But I recovered in time for a very interesting performance by Japanese duo Hoahio. Haco sings, uses lots of fascinating electronic toys and gadgets, including feedback from a mike in a teapot, while Yagi Michiyo plays extraordinary koto, hitting as well as plucking the instrument.. Finally Sonic Youth's Lee Renaldo appeared with percussionist William Hooker and Gert-Jan Prins on homemade electronics to play a loud, dense, rockist set . Powerful stuff, but a highspot for me was the moment it all fell away to leave Renaldo on simple acoustic bells.
The last night began with an exhilarating set from Steve Noble 4tet who exploit those awkward moments in improvisation perfectly in order to change direction. There was a lot of close listening and sudden dynamic shifts. .I enjoyed John Edwards attacking his double bass as if it was a percussion instrument. Until I heard Toshimaru Nakamura I never realised feedback could sound so beautiful and subtle. Using only a mixing desk he created hypnotic, long looping tones, an unexpected visual element being added by an overworked speaker which suddenly poured smoke across the stage.
Jean Herve Peron, sacked from Faust for being "too crazy", sang ecstatic and vulnerably sincere songs, adored by the many Faust fans in the audience and ably supported by Chris Cutler and Simon King on drums and guitar.
The festival was brought to a delightful end by the trio of Anna Homler, Steve Beresford & Richard Sanderson, each with a full table of toys, whose touching melodies and charming improvisations sent us out smiling into the cold breezy night .
Viv D. Corringham